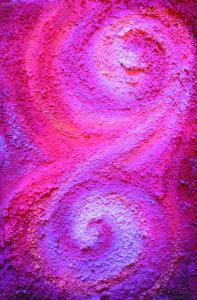 The Pink Tent – an Art Installation by Alexandra Florschutz, MA

The Pink Tent Installation explores what it is to be a woman in our western culture. It is a celebration of all things feminine. It allows women to expand their self awareness of who they are beyond the context of our culture while giving a positive insight for men.

The Pink Tent conjures up a divinely luxurious sacred space. A place where people can have a creative, sensual, informative and transformative felt experience of the Feminine.

The Feminine has its own distinct qualities: Circular, feeling, unconscious, dreams, creativity, imagination, heaven, Willow tree, while its dualistic opposite is the Masculine, straight, linear, goal oriented, strong, Oak or earth.

It is time for Women to dance with their own destinies – in whatever shape or form that takes – to honour the feminine principles not just simulating the masculine. To seek their own pleasure in whatever form that takes. For Man and Woman to walk side by side without overshadowing each other's true potential.

The Goddess, which are female archetypes, are represented in many different forms – in other words women are all different and yet share unique qualities. They all conjure difference characteristics such as strength, love, home, freedom, peace etc. The goddess is also about 'Regeneration' (or Birth, Growth, Death and Regeneration – M. Gimbutas). The procreative parts of the goddess, or fertility (and this can be creative fertility), is represented by the breast, belly and vulva. The Vulva (vagina, yoni, cunt) is most commonly symbolised by the triangle which encompasses Birth, Pleasure and Regeneration.

Different aspects of the goddess are: the bird that lays the egg which are seeds of rebirth, the fat fertile goddess, the mountain goddess, mother earth. And animal forms: the fish, womb-like hedgehog, egg-like, watery, fertile, transformation of the butterfly.

'Your dreams, your desires are not too big for you. They are just the right size'!

'Pleasure comes from giving yourself permission to explore your appetites freely, with no guilt'. (R. Thomashauer, 2002. Mama Gena's School of Womanly Arts).

The Pink Tent contains themes such as: Female cycles, Pregnancy & Birth, Feminine Sexuality, Menopause, The different aspects of the Goddess, the pursuit for our own pleasure, inner acceptance and happiness.

The Installation is being supported by several organisations including Woman's Aid. We will happily be raising money during the weekend to support their wonderful work in all areas of women's issues.

We are also supporting the 'Real Man' Campaign standing up to end violence against women and children.